Use Avail's Business Intelligence (BI) to access a collection of data visualization dashboards and the underlying data in tabular form. These flexible visualizations display a range of information by different criteria to answer your business questions.
A dashboard can consist of a collection of panels or a series of tabbed pages, each with its own graphs that you can filter. These interactive dashboards allow you to vary the reporting criteria for them. Simply click features in the visualizations to drill-down to the necessary details. Or choose from a series of filters to apply.
In addition to the predefined reports, you can use the self-service tab to create your own custom analyses. The self-service section provides intuitive ways to interact and personalize dashboards and reports, select and analyze data from centrally managed and governed data sources, and create and share visualizations and formatted output. Self-service allows you to do the following:
Create custom charts, tables, and other visualizations of your data.
Perform a wide range of activities with your data, including sorting, grouping, and filtering.
Save these visuals in your own gallery.
Combine them into dashboards.
Place them in reports that can be shared with others.
Schedule reports for automatic generation and distribution and more.
For the self-service features, refer to Logi Analytics guide Data Analysis using the Self-Service Reporting Module.
How to Access Business Intelligence (BI)
If you have permissions to access the Business Intelligence features, myAvail displays the Business Intelligence top-level tab:

After clicking this tab, myAvail opens the Business Intelligence Home Page in your PC's default Web browser. Avail recommends using Google Chrome browser. However, Business Intelligence might work in other browsers.
The Business Intelligence Home Page can also be launched from our ETMS system/Operations/Business Intelligence card: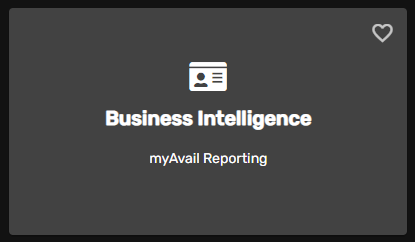 The Home Page is shown below: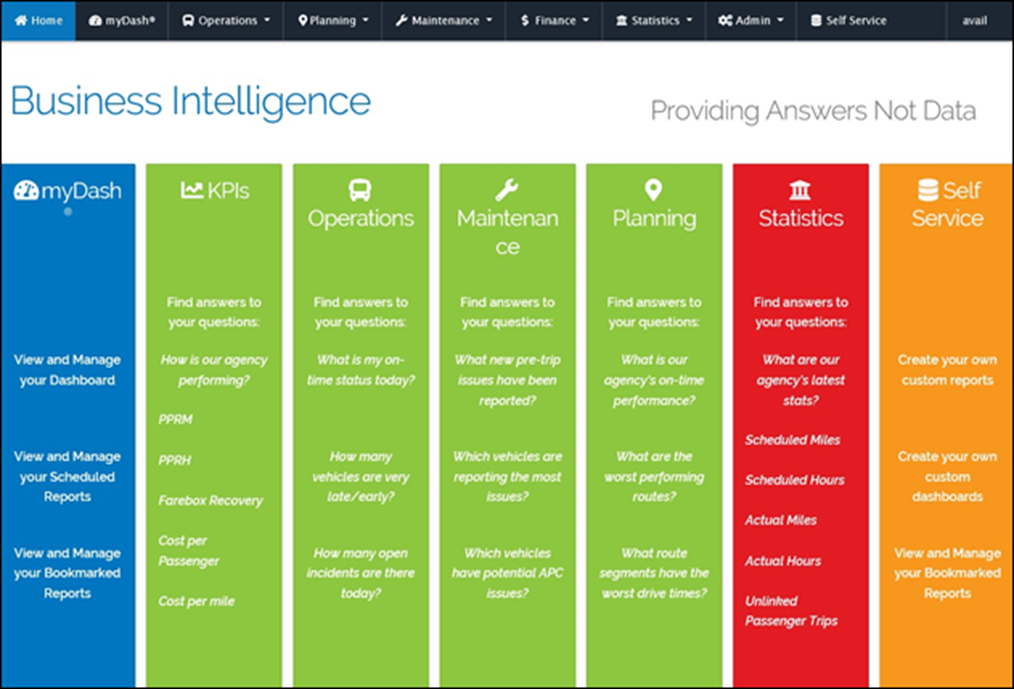 For security reasons, you must access Business Intelligence using the top-level tab in myAvail or in ETMS. If you directly access the BI URL, such as through a web browser bookmark, your browser cannot authenticate with the service, and it will display an error message.
Menu Bar
The menu bar is across the top of the home page. This menu displays the different categories of reports and features you can access. These options include the following:
myDash: View and manage your dashboard, scheduled reports, and bookmarked reports.
Operations: Visualizations related to operations such as on-time status, number of vehicles that are late/early, and open incidents.
Planning: Identify the worst performing routes, worst drive times, and more.
Maintenance: Display recent pre-trip inspection issues and vehicles with the most issues.
Finance: Display financial metrics by various categories.
Statistics: Display scheduled and actual miles and hours.
Admin: Manage your bookmarks and scheduled reports.
Self-Service: Create your own custom visualizations and reports.
Bookmarking, Automatic Runs, and Exporting
In the upper-left corner of many visualizations, there are three additional functions to note.
Click to bookmark the current The bookmark feature saves all your filter settings so you can run the same report without having to recreate it. Access and manage your bookmarks in Admin > Bookmark Admin.
Click to have BI automatically run and distribute reports to specific users. View and manage the reports that are already scheduled in Admin > Scheduled Reports.
Click to export the data to an Excel, CSV, or PDF
TIP: Availability of these functions varies by report.