Create a New Support Case
There are two locations where you can start a new support case:
Portal home page:

Click the Create Case button


Cases page:

Select Cases from the Support drop-down menu

Then click the button
Both will take you to the Create Case page where you will enter your case information - detailed below - to be submitted to Avail Support. Click the below image to expand.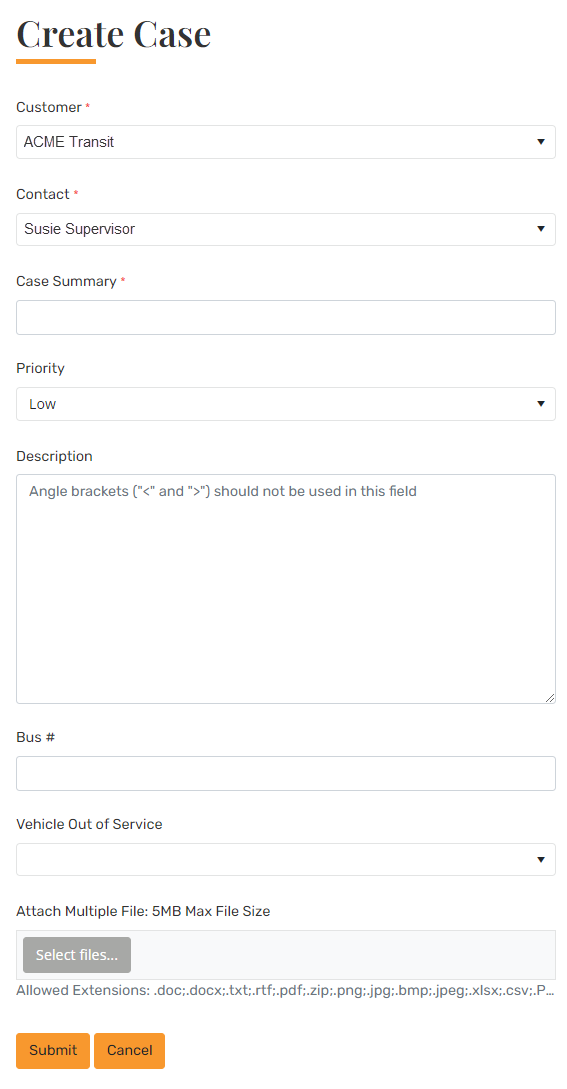 Case Form Fields
The form will open pre-filled with your full name and agency and cannot be modified.
In the Case Summary field, provide a brief description of your issue. This is the one-line name for your case that gives us the For example, "2 operators can't logon to the MDT on the MCIs", "The shopping center announcement is missing on vehicle 1207 for route X", or " Work order process issues".
Use the Priority field to indicate the severity of your case. Only Low and Medium priorities are available to select for cases created via the portal. Support cases with critical or high priority must be called into the Avail Support Team at (814) 234-3394 option 1. Do not submit these cases through email or the portal.
Provide as much detail as possible in the Description field. Include details such as the Avail solution, page/form names, dates/times, trips, routes, etc. The more information you provide, the better and we'll be able to serve you.
The Bus # and Vehicle Out of Service fields should be completed if you use Avail's CAD/AVL solution. This helps our team expedite service.
Use the

button to add screenshots or other supporting files that will help us to determine the root cause of the issue. The accepted file types include .doc; .docx; .txt; .rtf; .pdf; .zip; .png; .jpg; .bmp; .jpeg; .xlsx; .csv; and .rar
Complete the required fields - marked with asterisks - and click

to send the case to Avail Support.