Using the Yard Map
In the Operations top-level tab, the Yard Map displays the current location of vehicles in the yard. Use this information to assign vehicles to blocks and to tell operators where their assigned vehicle is located. Place vehicles in the correct location using the Vehicle Locations tab described below. An example yard map is below.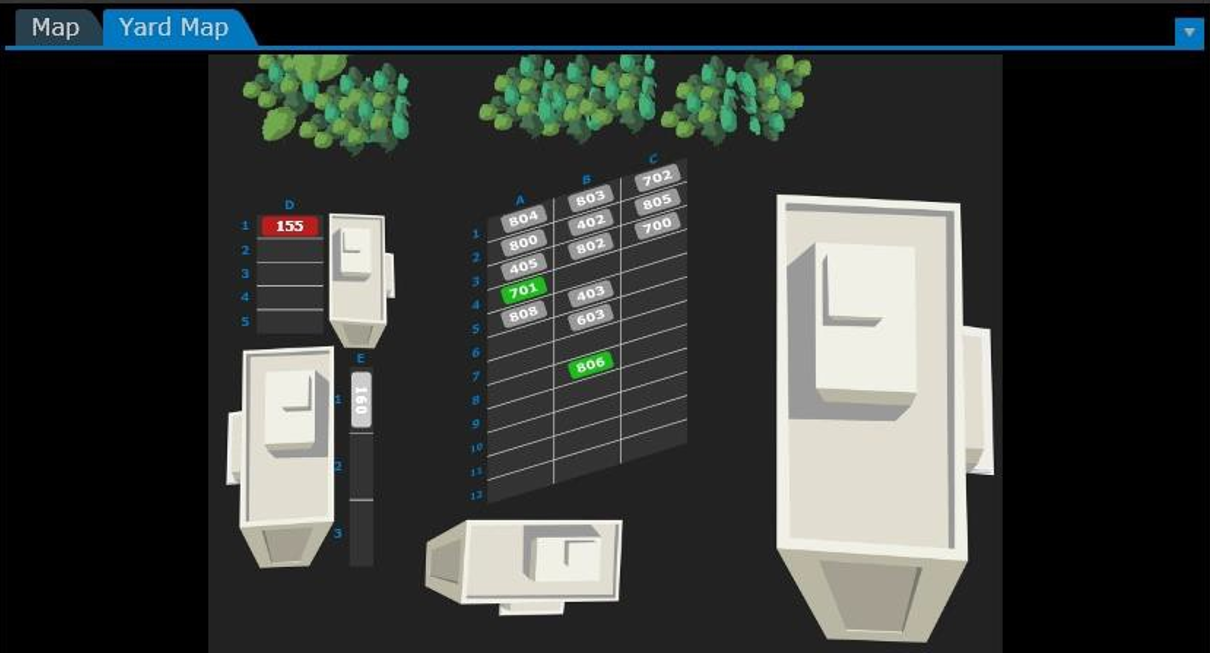 The color of the vehicle indicates its status:
Gray - assigned to a block
Green - unassigned
Red - unavailable due to maintenance
Orange - unavailable due to being offsite
Your property may have more than one yard. To view other yards, select the blue arrow in the upper right to reveal a control panel that contains a Yard Maps drop-down list.
Assign vehicles to blocks from the yard map by dragging and dropping the vehicle from the yard map to the pullout group, described above in the Reassigning Operators and Vehicles section.
After a vehicle pulls out, myAvail no longer displays it on the yard map.
Using the Vehicle Locations Tab
If you have permission to enter vehicle locations in the yard, myAvail displays a Vehicle Locations top-level tab. When you click this tab, myAvail displays the yard map.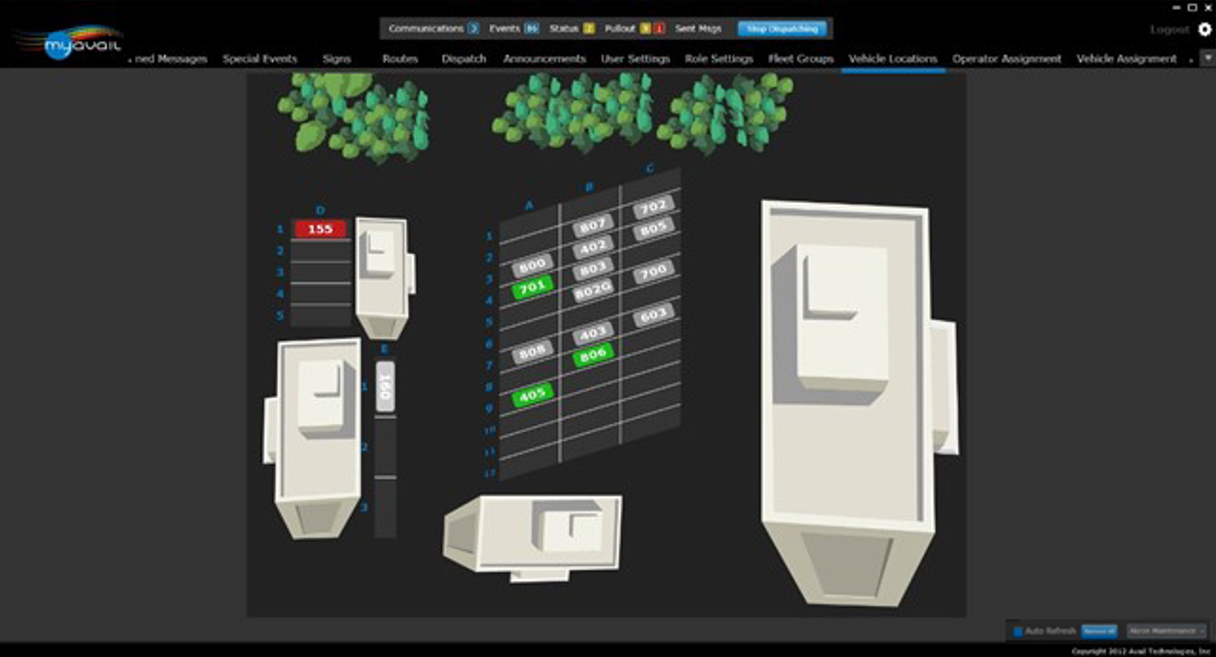 To add a vehicle to a location, click the location in the grid. This displays a popup window as shown below.
In the Vehicle # field select a vehicle from the drop-down list or type the vehicle number. In the Status field, select Available, Maintenance, or Offsite. The initial status that the popup window displays depends on the grid you are working in. For example, grids located near maintenance, the initial status is Maintenance. Consequently, you do not need to change the status in most cases. After you enter this information, click Add Vehicle to add the vehicle to this location in the grid.
If the vehicle you added was already located elsewhere on the grid, myAvail moves it to this new location. When the yard map displays the incorrect vehicle in a grid location, myAvail provides the option to change the vehicle number or to clear the vehicle when you click that location.
To view a different yard map, select the yard map you want to view in the drop-down list in the lower right-hand corner.
After every change you make, myAvail displays the "Saving Changes" and "Changes Saved" indicators in the lower-right-hand corner.
If the Auto Refresh checkbox in the lower-right-hand corner is checked, the yard map will be set to auto-refresh every 2 minutes. This was introduced as a safeguard in case any of the dispatcher subscription is missed due to internet connectivity issues.