When you are the only one monitoring specific fleet groups, and you need to leave your station, set your dispatch station to auto-response mode so you can still respond to vehicles that send an RTT or PRTT.
If you are in a closed-mic system, auto-response mode automatically sets up voice calls, and you can communicate with the vehicle using a portable radio.
If you are in a VoIP system, auto-response can work with a properly configured cell phone.
To enable auto-response mode, unhide the toolbar on the Operations tab and select the Auto-Response icon

, which opens the popup window.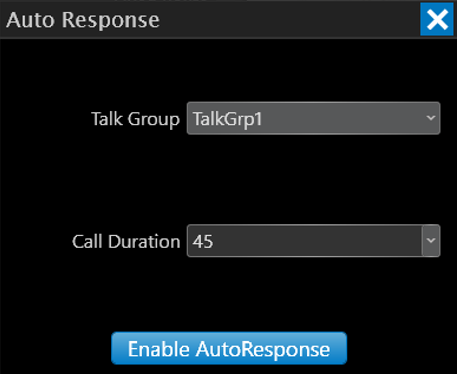 Use this dialog box to select the talk group for auto-response and the duration of each call. VoIP systems ignore Call Duration. For closed mic systems, set your portable radio to the talk group you select in this window. In a VoIP system, verify that your cell phone is in the selected talk group.
When you click the Enable Auto Response button, a window appears that indicates your workstation is in auto-response mode and the fleet groups that are in auto-response mode. Only fleet groups that are monitored by you and no one else are put into auto-response mode.
For example, if you are monitoring both the fixed route fleet group and the demand response fleet group and another dispatcher is also monitoring the demand response fleet group, when you go into auto-response mode, only RTTs from vehicles in the fixed route fleet group are responded to automatically because the other dispatcher can handle the demand response RTTs. If all the fleet groups that you are monitoring are also being monitored by someone else, the system does not allow you to go into auto-response mode.
Auto-Response mode is not available in open-mic systems.
TIP:
When users can observe dispatch, but their position does not include the Active Dispatcher permission, myAvail does not consider them to be monitoring any fleet groups. For more details, please reference the myAvail System Administrator User Guide.