Supervisor Mobile Phone (VoIP) Workflow
Supervisors can initiate a call to vehicle operators by using VoIP in a closed mic system.
Simply open the Zoiper phone app, which is already installed on the mobile phone. This action will allow you to open a voice channel for a VoIP call to a vehicle or group of vehicles.
TIP:
A key difference between radio and VoIP calls is that a VoIP system uses a cellular signal instead of a radio channel
.
1. To create a VoIP (voice over internet protocol) call, first open the Zoiper app on the mobile phone:
Locate the Zoiper app on the phone:

2. Use the number pad to call individual or groups of vehicles:
Type the number sign, then the vehicle Id to call a single vehicle
Type the number sign, then the vehicle Id and use an asterisk between each vehicle Id to add more than one vehicle and enter an asterisk
You can also use the shortcut tiles to quickly place a call to a particular group (dispatch, another mobile line, etc.)

Operator Workflow
Notification for a VoIP call is sent from dispatch and displays on the MDT (mobile data terminal). An audible tone also alerts the operator that a call has been opened. Just pick up the handset to take the call.
IMPORTANT NOTE:
Having difficulty hearing dispatch? Use the volume dial on the left side of the handset cradle to adjust it up or down
.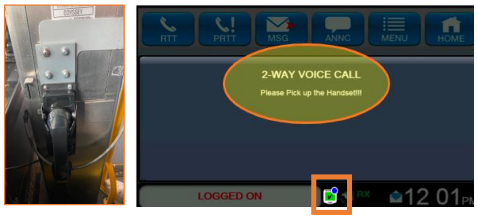 TIP:
If the picture of the MDT on the status bar is green, as shown above, it means the MDT is communicating with the system
.
CONNECTIVITY STATUS LEGEND