Navigation:
ETMS > Operations > Business Intelligence Card > Maintenance > Maintenance Issues
Use this report to assess the prevalence of maintenance issues across the entire fleet and to identify vehicles with an unusually high number of issues. This report displays the number issues for the date range that the filter pane specifies.
The KPIs at the top indicate the number of issues for the entire fleet. The types of issues include pre-trip issues, ITS issues, and vehicle health monitoring (VHM) issues. The color-coded bar chart indicates the number of issues by type for the top 20 vehicles with the most issues.
The numbers to the left the bars are vehicle numbers.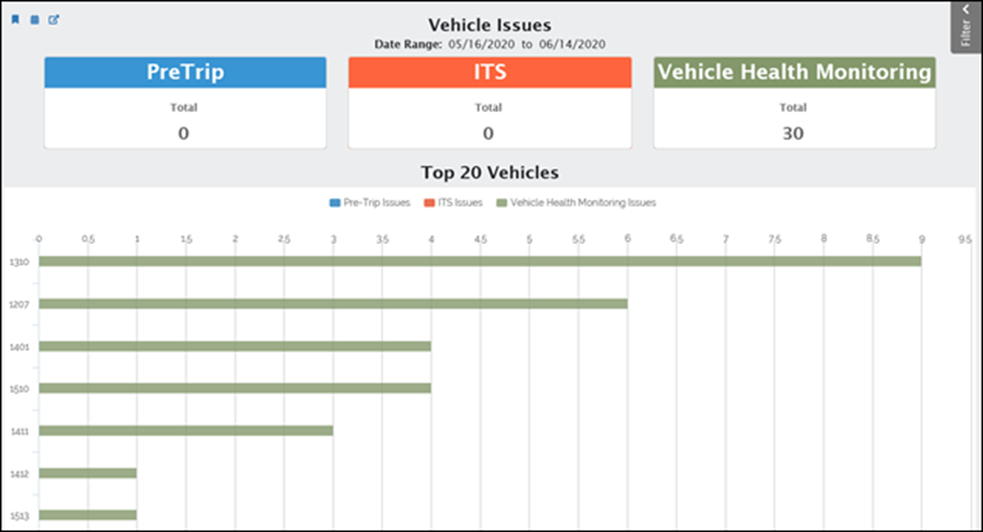 Click a column heading to sort the table by that column. Multiple clicks toggle between ascending and descending sort orders. For example, click the Flash Urgency heading to sort the table by urgency.
For this report, you can use the following specialized filters in the filter pane:
Show All Vehicles: Check this box to display all vehicles. When this box is unchecked, the graph displays only the 20 vehicles that have the most issues (Default).
Sort By: Change the sort order to focus on a particular type of vehicle issue. The graph displays vehicles in descending order by the following characteristics.
Total Failures: The total number of Pre-Trip + ITS + VHM failures (Default).
Pre-Trip Failures: The number of pre-trip inspection failures.
ITS Failures: The number of ITS failures.
VHM Failures: The number of vehicle health monitoring (VHM)
On the Vehicle Issues report, each bar represents a vehicle. Click a bar to see display the issues for a vehicle in more detail, as shown below.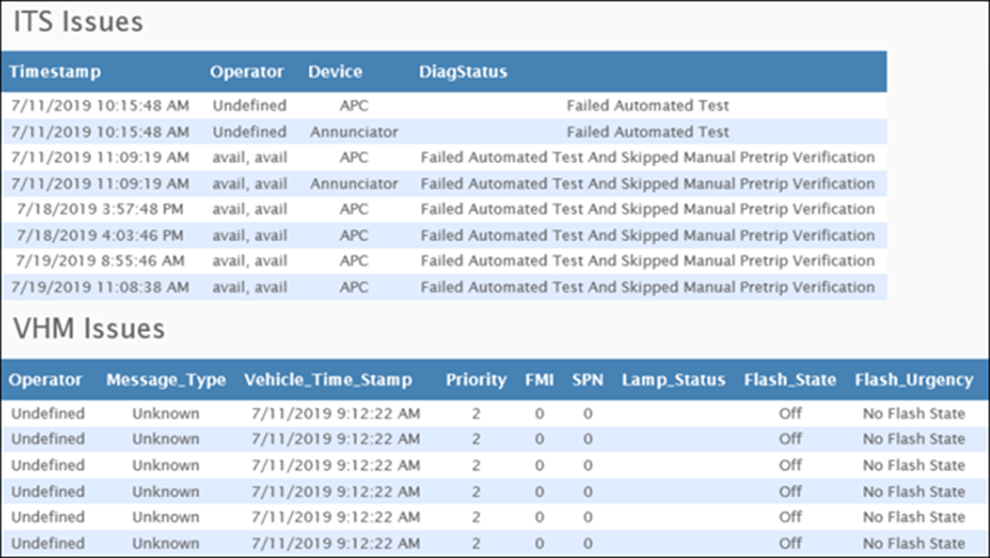 Vehicle boot-up diagnostics results were added to the ITS Issues subreport. The Diagnostic Status column now will include such issues as "Device Not Found", "Cannot Communicate With Device", and "Failed Automated Test And Manual Pretrip Verification Pending". These will also be included in the Total amount of failures in the main report.