Avail engineering technicians manage the complexities of functions and updates 'behind the scenes' here on the Vehicle Files tab. This card is used by Avail staff to push debugging code, updated config files, etc. to your fleet vehicles. The myAvail System Administrator Guide contains more detailed information on this function. 
Within the Vehicle Files card, select the Status Tab. This is the default selection.
Choose the type of file that you want to view. The default is to display all file types for all vehicles.

To filter the list based on a type of file, click in the box below Filter by Download Type and choose the type of file you want to see from the drop-down list. You can select multiple file types by choosing one type from the list and then clicking in the box again to choose For multiple selections, myAvail displays all of the types. For example, if you select Annunciator and DataPoint, you will see where both file types are scheduled for download.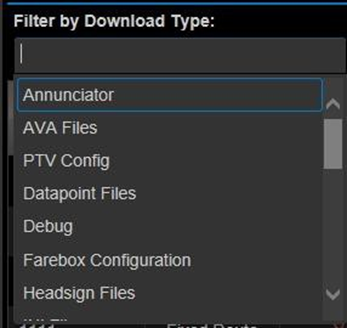 myAvail displays the following information for all vehicles meeting your selection criteria:
Vehicle information
Vehicle ID
Vehicle Type - As entered on Vehicle setup in DataPoint
Download Scheduled - Whether there are any downloads scheduled for the This field is a yes or a no.
Scheduled Downloads
Block Files - Schedule Data
Annunciator Files - Announcement recordings and interior sign text.
Pre-Trip - Set up files for the Avail Pre-Trip tracking option.
Code Files - Any Avail supplied in-vehicle equipment software or configuration files.
Connection information
Last Connected - Date and time files were last downloaded.
Connected - A check indicates the vehicle is currently connected to the wireless LAN.
Last Connected MDT IP Address - The last IP address assigned to the vehicle.
Current Version
Block Files, Vector and Pre-Trip - these are place holders pending a future system enhancement.

Details Button: Click to display details for individual downloadable files.
Cancel Button: Click to cancel a scheduled download.