Navigation:
ETMS > Compliance > NTD Reporting > NTD Reports
Overview
Transit agencies treat reconciling items (5200) based on their accounting system. Accounting practices vary because of local ordinances on accounting treatments. Transit agencies use reconciling items on the NTD Annual Report to provide an overall operating expense total that is consistent with locally published reports.
The F-40 Report provides an agency-wide total summary of the operating expenses as reported on the agency's F-30 form(s) for all Modes.
The Operating Expenses table displays an automatic summary of expenses from individual F-30 forms organized in several columns: Vehicle Operations, Vehicle Maintenance, Facility Maintenance, General Administration, and Total. This is broken down by Labor, Services, Materials and Supplies, Utilities, Taxes, etc.
The Reconciling Items table allows the user to enter data for reconciling the items. Agencies may report reconciling items on the F-40 form such as depreciation, interest payments and leases. There are three columns for the reconciliation data:
Funds Applied,
Funds Not Applied
Total Expenses for Period (a read-only total of the two columns)
All data can be filtered by a Fiscal Year.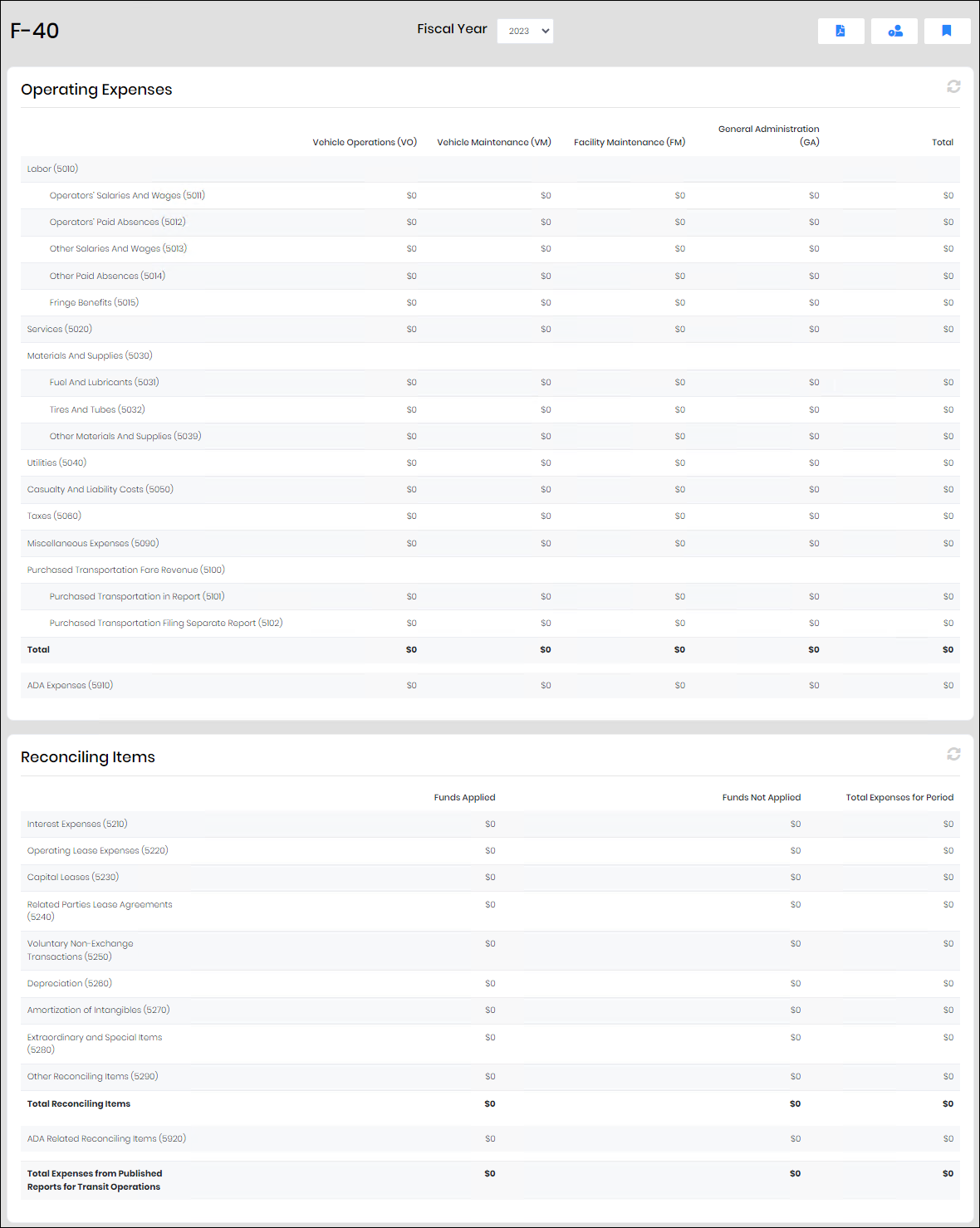 Object Classes
Full Reporter agencies must report applicable reconciling items in the following object classes:
Interest Expenses (5210)
Operating Lease Expenses (5220)
Capital Leases (5230)
Related Parties Lease Agreement (5240)
Voluntary Non-Exchange Transactions (5250)
Depreciation (5260)
Amortization of Intangibles (5270)
Extraordinary and Special Items (5280)

Expenses related to extraordinary and special items are reported in this category. For additional information, please see USOA 4.10.8, "Extraordinary and Special Items" or, in this manual, "Directly Generated Funds: Extraordinary and Special Items" (above).

Other Reconciling Items (5290)
ADA Related Reconciling Items (5920)

Transit agencies must identify the portion of total reconciling expenses for the DR modes directly related to operating complementary paratransit services in compliance with the ADA requirements. Agencies may estimate ADA related reconciling expenses using a reasonable approach, such as the proportion of ADA trips to total trips, when allocating reconciling items
between ADA and non-ADA service.
Funds Applied and Funds Not Applied
There are two types of expenditures for reconciling items:
• Funds Applied
• Funds Not Applied