WARNING:
This article contains documentation for the legacy ERP solution, Fleet-Net. Some of the features and processes described relate to the on-premise solution and may not accurately depict functionality in the new hosted solution, myAvail ETMS. Refer to Overview of Fleet-Net Features (Legacy) for features used throughout the legacy solution.
New articles will be published as we update this content. Reach out to our Support Team if you have any questions.
Fleet-Net® for Windows Product of Avail Technologies, Inc.
Operator Timekeeping Overview
Operator Timekeeping provides a timesaving, automated method for handling operator payroll related functions.
Operator Timekeeping interfaces with Public Schedules and Fast Cut to automate the Vehicle Blocking and Run Cutting processes and produce camera-ready public schedule timetables.
Operator Timekeeping allows definition of Driver Run Assignments needed to cover public schedule trips. These run assignments are used as the basis of an "exceptions"-based payroll. Operator Timekeeping automatically generates transactions needed to interface with Fleet-Net® Payroll.
After run assignments are delineated, selected runs are assigned to employees through the selected bid process. On a daily basis, extra or unassigned work time can be posted to an employee as necessary. Only deviations from the normal work schedules need to be entered. All other transactions will be automatically generated.
Operator Timekeeping, along with Fast Cut provide reports that compare run assignments for efficiency and cost effectiveness. Operations management reports are available via Fast Cut Timetables and Fast Cut, including Miles per Route, Hours per Route, Vehicles per Route, etc.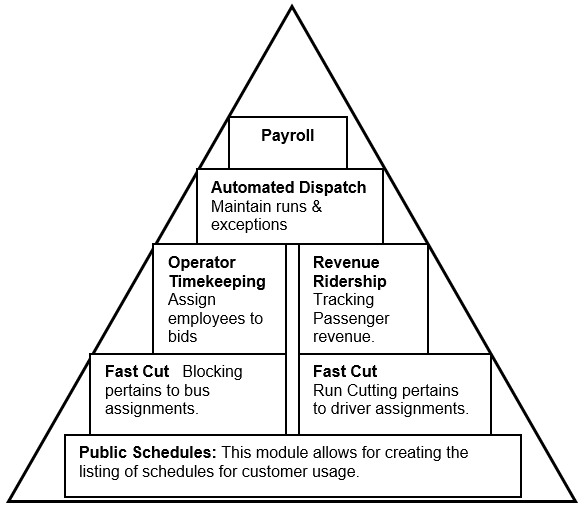 TIP:
To view the user guide, download the attached PDF using the linked file at the bottom of this article.
User Guide Contents
PRODUCT DESCRIPTION 5
OPERATOR TIMEKEEPING IMPLEMENTATION 6
ABOUT THIS GUIDE 7
OPERATOR TIMEKEEPING CHECKLISTS 8

INITIAL SETUP CHECKLIST BUILD/CHANGE SIGN UPS 8
STANDARD CYCLES CHECKLIST 9

OPERATOR TIMEKEEPING MAIN MENU 10
BUILD/CHANGE SIGN UPS 10

EDIT OPERATOR TIME KEEPING MISCELLANEOUS CODES 11
RUN MASTER SETUP 12

Master 12
Runs Pay Time 13
Add New 13
Duplicate Run 14
Remove Run 15
Run Alias 15
Round Time 15

RUN ASSIGNMENT BY BID 17
PURGE SIGNUP 19
DUPLICATE SIGNUP 19
MODIFY/ADD RUN CLASS CODES 21

OPERATOR OFF 22

OPERATOR OFF ENTRY 23
GENERATE OFF RECORDS 24
OPERATOR OFF REPORT 27
OPERATOR OFF WORKSHEET 28

DAILY TIMEKEEPING 29

DAILY TIMEKEEPING 29

Generate Daily Pay 30
Extra Board Entry 31
Generate Extra Board Pay 31
Operator Off 32
Driver Sign In 32

TIME ENTRY 33

Detail Entry 34
Quick Entry 34

TIME SUMMARY REPORT 35
AUTO PAY TIME 37

REPORTS 37

REPORTS 38
SIGN UP VARIANCE REPORT 39
TIME SUMMARY REPORT 41

INQUIRIES 46

RUN BID INQUIRY 47
PAY TIME INQUIRY 48

TIME CHECKS 50

SUPERVISOR TIME CHECK 50

Enter Time Checks 51
Print Variance Report 51